6 best glass vase shapes for flower arrangement
Sometimes, you receive or pick flowers from the garden, but it is different to choose the right glass vase. The following tips is don't be afraid to cut the stems to better suit the vase or use decorative pebbles or shells to prop the flowers up.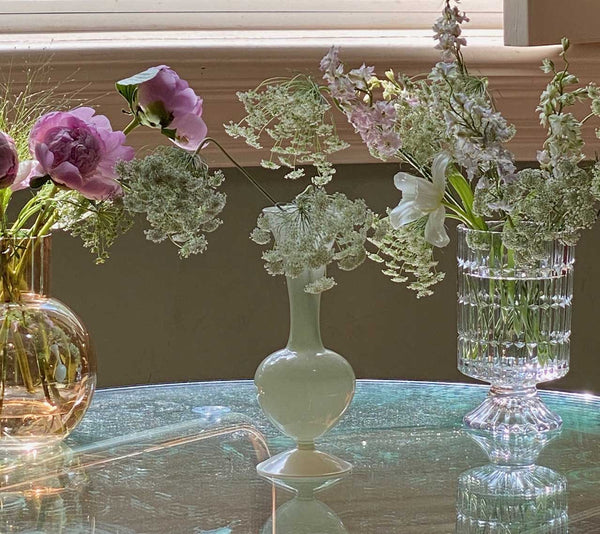 The opening of the vases is the first part we need to care about. Opening that is too wide or too narrow can make it harder to work with and change the shape of the overall arrangement.
Check out our introduction to vase types and vase shapes below to match your next bouquet of flowers.
Overview:
Tall cylinder glass vases

Narrow necked glass vases

Fish bowl vases

Square glass vases

Rectangular glass vases

Square tank glass vases
6 best glass vase shapes for flower arrangement
1.Tall Cylinder Glass Vases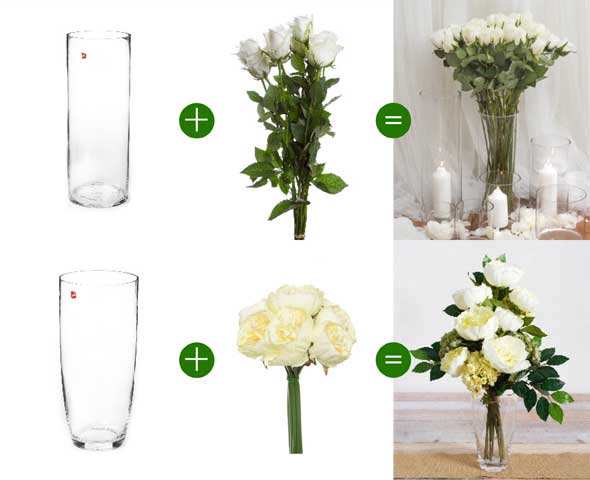 Generally larger, tall cylindrical vases provide structure and work well with tall-stemmed flowers such as roses, lilies, or gladiolus. This vase shape is also one of the most suitable vases for sunflower, peonies and hydrangea! When placing flowers with large leaves in a tall round floor-to-ceiling vase, it also helps increase the volume.
2.Narrow Necked Glass Vases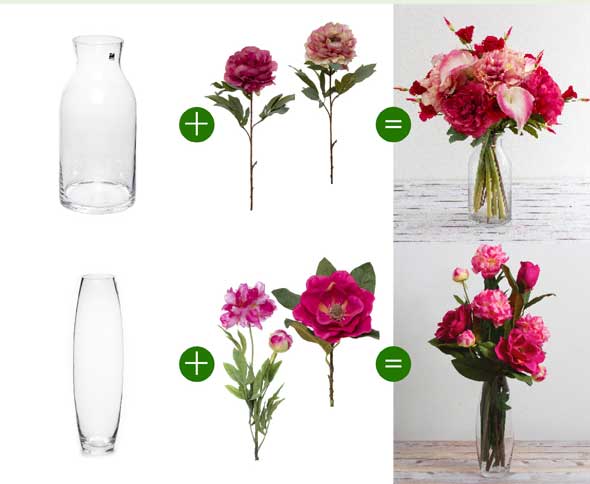 Due to the narrow opening and long body, the narrow-necked/convex vase looks beautiful when paired with tall flowers or thin-stemmed flowers.
Instead, choose flowers that you would similarly put in a bud vase. If you want to create a wild and country look, opt for flowers like peonies – with its delicate petals, this flower overflows the opening of the vase but looks subtle and well arranged
3.Bowl Glass Vases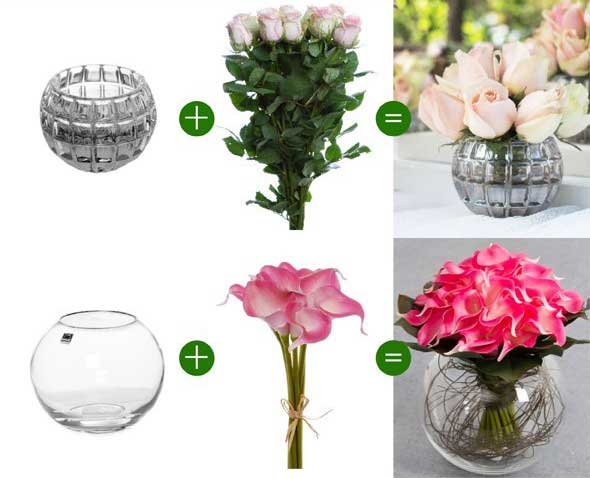 When it comes to choosing flowers for bowl vase shapes (or rounded vases), you want to opt for flowers that can spill over the opening of the vase.
Top-heavy flowers, like artificial orchids, roses, chrysanthemums, daisies, carnations, and even calla lilies will look stunning in a fish bowl. To create the perfect round vase flower arrangement, you will need to cut the flower stems to the height of the fish bowl. Flowers with rigid stems work particularly well in this vase style, because they can stand up straight.
Wondering how to arrange carnations in a vase? Gather the blooms together (you can opt for the same colour or match complementary colours), tie the stems with some raffia string and add in some luscious greenery. Just make sure you have enough flowers so they can spread out over the dome shape!
 4.

Small Cube Glass Vases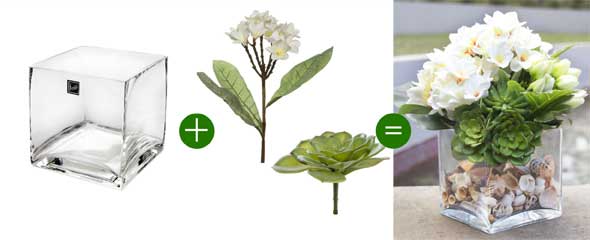 Small cube-shaped vases look easy to fill, but can be tricky. The key is to find flowers that are bulky, but that don't open too widely, and then to use as many of them as you can.
Delicate flowers like frangipanis, succulents, violets or anemones are good to feature in this vase shape. But when it comes to flowers in square vases, just make sure you cut the stems short and pack them tightly together.
If you feel like the bottom of the glass square vase feels a little empty, try adding some decorative pebbles, like river pebbles, at the bottom! They can fill up any space and they really complement flower arrangements.
5.Rectangular Glass Vases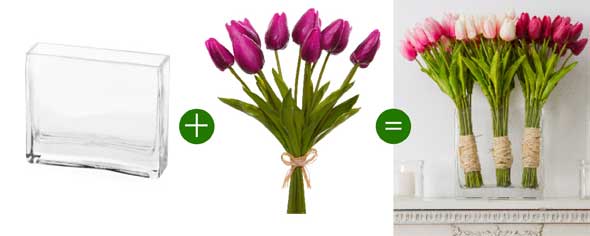 Similar to square tank and glass bud vases, rectangular glass vases suit single stemmed flowers. For a contemporary look, try bunching several flowers together using string and create a few small bouquets. We love using tulips for this look! Then place those bouquets into the rectangular glass vase. Alternatively, sunflowers, birds of paradise and native protea flowers look amazing too。
6.Square Tank Glass Vases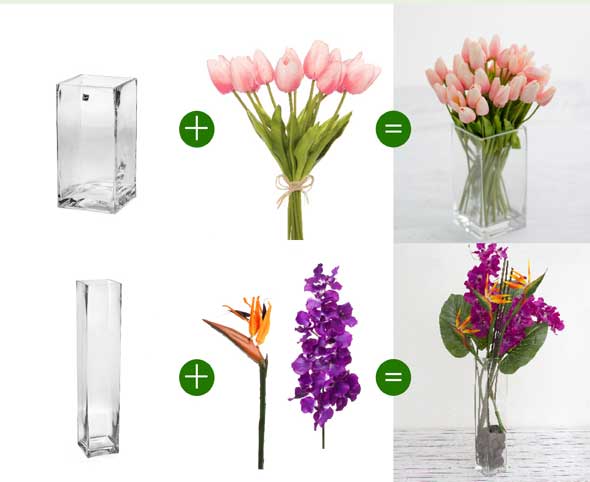 For a standout look, choose tall flowers with strong stems. Square tank glass vase shapes are perfect for both single stem flowers and foliage, quite like a bud vase.
Feel free to prop flowers up with pebbles and use large stems of foliage and tropical flowers for a stately effect. Similar to the cylindrical vase, square tank vases also help to create structure. Plus, paired with the right floral arrangement or bouquet, they look stunning as floor vases.
So, now you know about all the different types of vases for flowers, it's time to get creative! Mix and match the different vase styles for centrepieces, use them in home decor or even at events. And if you ever feel like something is missing from your vase, then foliage and vase fillers always help!
content and source: https://www.koch.com.au/blog/right-vase-for-flowers
---