White Vase for Home Decor - Somthing you need to know in 2021
This is a complete guide to choose white vase in 2021.
So if you want to choose the perfect white vase for your home decor, you'll enjoy the actionable tips in this new guide. Let's dive right in.
Tiny Porcelain is online brand selling ceramic vases and home decor items globally. Created by a group of ceramic artist and interior designers in Jingdezhen, Tiny Porcelain manufacture hand made vases and provide home décor ideas.
More about Tiny Porcelain 
This content in cludes: 
Home decor styles for white vase
Most white vases are ceramic vases
Places to display white vase
Home decor styles for white vases
The first thing we care about is colors. As color is the key factor in home decor.
What kind of home décor style best for white vases?
Basic color matching principle: black, white, and gray are versatile.
For white vases, there is no need to think about how to match it, and it can match any color. Even if the main color of the home decor is wood, white vases are still suitable.
In addition, the white vases would look great with most color of blooms. Whether your decoration style is Nordic or not without a specific style, display a white vase is always a good choice.
The following are the effects of white vases in various decoration styles.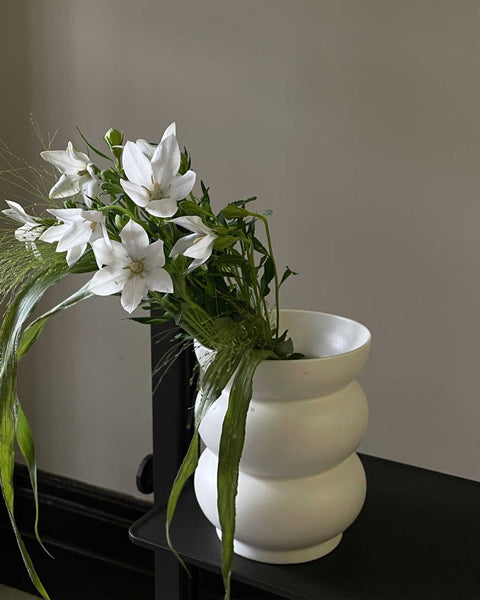 White vase in mimimalist mordern decor style

White vase display in bedend  under french home decor style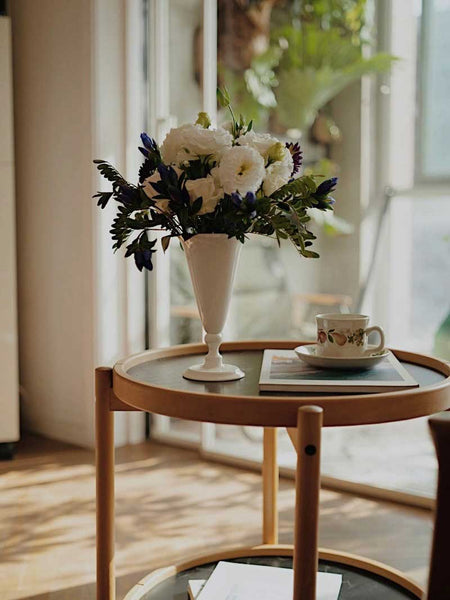 White vase under wooden home decor vibe
The White Vase – Ceramic Vase
Nowadays, there are many kinds of vases, which provide us with a variety of choices in terms of material, color, shape, etc. Because the material is the most intuitive factor that affects the character of vases, we generally classify vases according to different materials.
The main types of vases are: glass vases, ceramic vases, metal vases and wooden vases.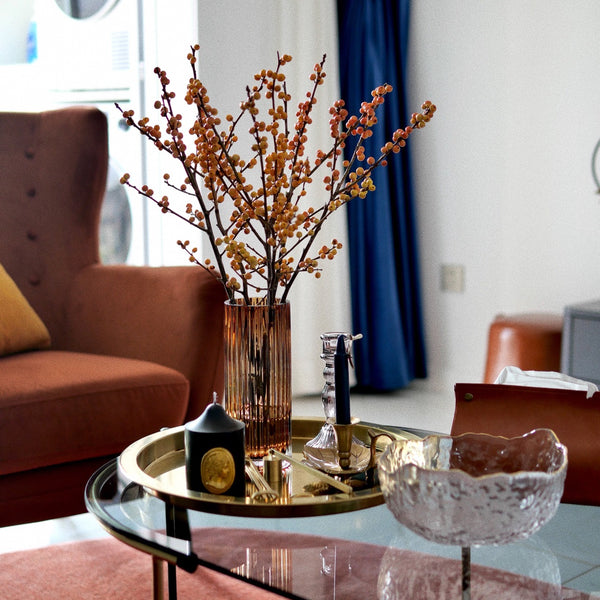 Glass Vase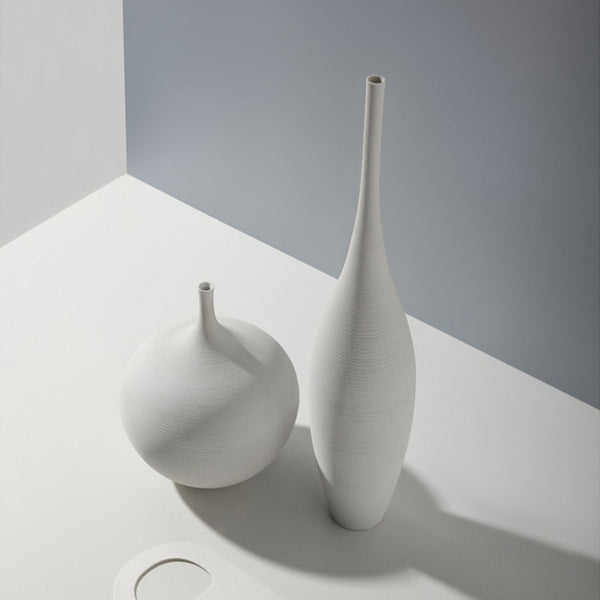 Metal Vase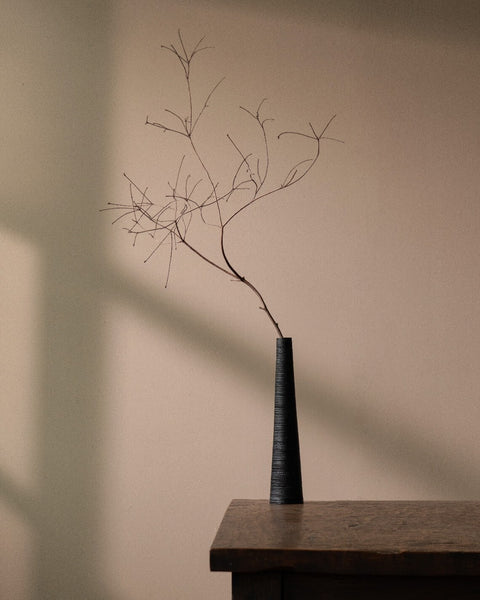 Wooden Vase
For more about vase types., please read 6 Types Of Vases Recommended For Home Decor
But for white vases, the most common are ceramic vases.
Ceramic vases are always a good choice for home décor. They look the most elegant and are durable.
Where to display the white vase
As vase is very common in-home decoration. It can be placed anywhere. For example, placing floor vase give the whole room a sense of hierarchy.
Among various decoration styles, the most common placements are: coffee table, dining table, cabinet, shelf, bedside cabinet. These do not include the floor vase.
Coffee Table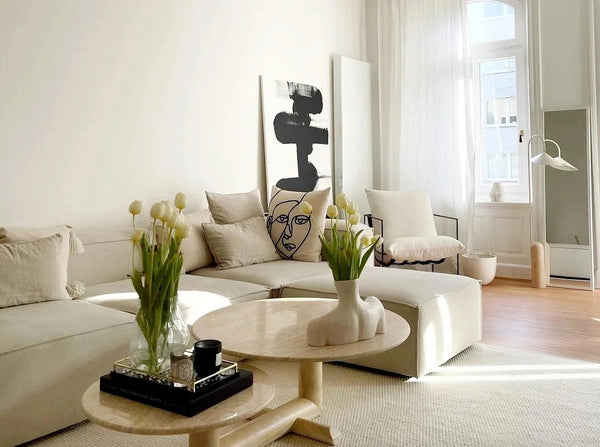 White vase on the coffee table
Having a cup coffee with family, the coffee table accompanied by flowers and vase is particularly interesting, and the words we talked with gradually became lively.
More vases for coffee table, please click here
Dining Table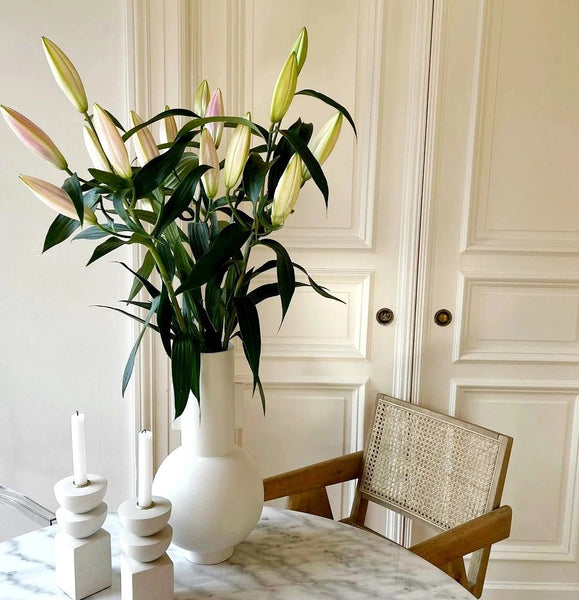 When you enter a dining room so modern and luxurious, it's hard to resist swooning over something fabulous. ⁠We believe that when having the dinner, it is not only the delicious food, but also the pleasant environment.⁠
Shelf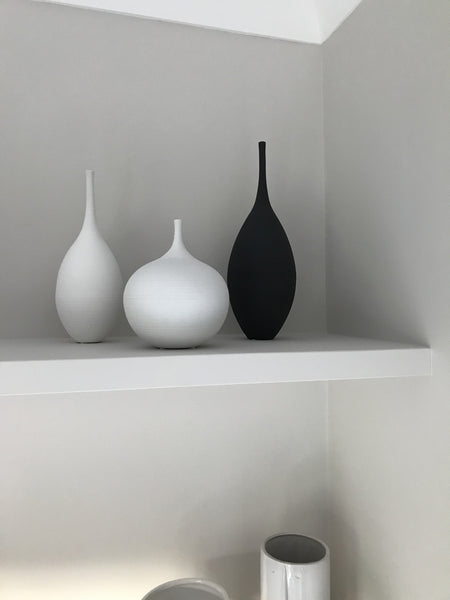 White vase on the shelf
Shelves are an important facet of the interior design process. It's a place we display selected unique pieces of artwork and the thinking of life.
Cabinet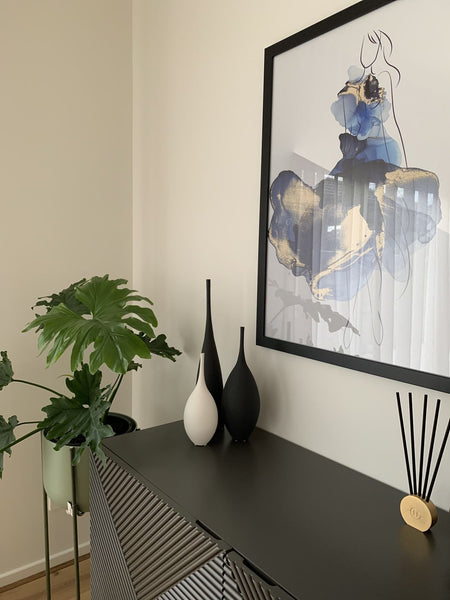 White Vase display on the cabinet
Sometimes the cabinet may be an empty place.  Try to pop white vases there! And make sure it's placed with the suitable style. Make it the new focal point of the room!
Windowsill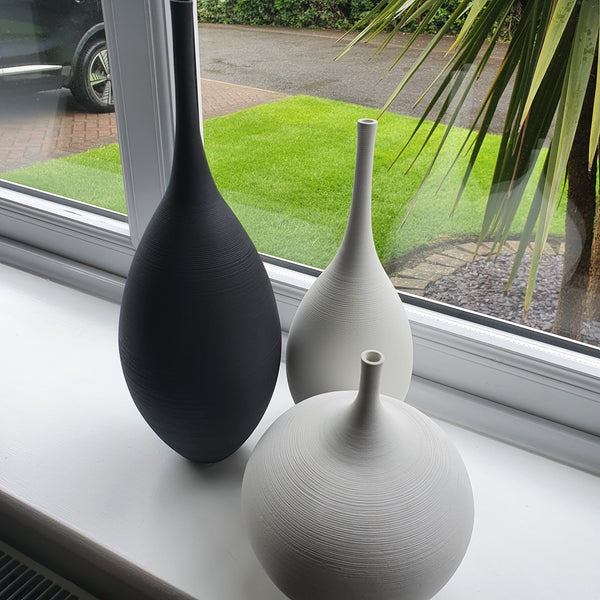 white vase on the window sill
It is a great idea to place white vases on the window sill. When you think of areas that can benefit from a bit of styling, it might be easy to overlook your window sill. It tends to be a spot that either remains bare or gets completely lost in unnecessary clutter. But with a dose of creativity, you can transform your window sill into the focal point that it deserves to be. Please the vase here!
Bed end table
White vase on the bed end table
Make your bedroom a cozy vibe.
Conclusion
That's it for my guide to white vases..
Which décor ideas from today's guide do you want to try first? Or maybe you have a question about something.
Either way, let me know by leaving a quick comment below.
---