11 Vases Shapes You Need Know Before Choosing A Vase
Bouquets are the perfect gift for someone special in your life, however, choosing a vase shape that perfectly matches your flowers can be tricky. With so many shapes, styles and materials, it can be difficult to choose a vase that is not distracting.
Whether you are choosing vases for your home decor, an upcoming event, or giving gifts we are here to help us with a guide to choosing different vases for each arrangement.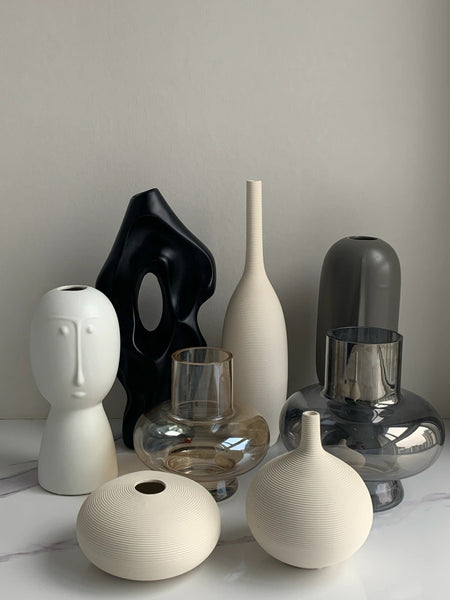 We have compiled the 12 most common vase shapes and their materials, the perfect DIY layout guide, and the best places to put them in your home. The following it the answer to "What are the different types of vases?"
Vase Materials
Nowadays, there are many kinds of flower ware, which provide us with a variety of choices. As the material is the most intuitive factor that affects the character of flower ware, we generally classify flower ware according to different materials.
Ceramic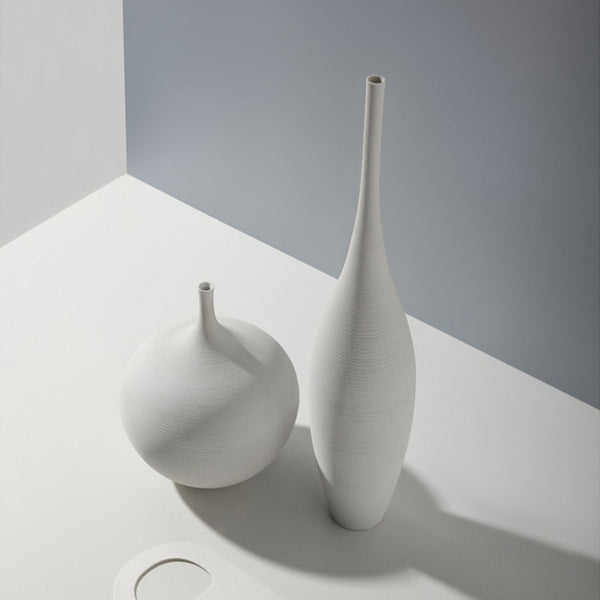 The most common material for elegant and timeless vase shape styles is ceramic. The texture, pattern and shape of ceramic vase ware are very diverse, and it is the most common container in floral decoration. The stoneware flower ware is simple and natural, full of Zen, and the porcelain flower ware is bright in color, delicate and elegant.
Glass
The glass vase allow light to travel through the vase to the flower's stem and water.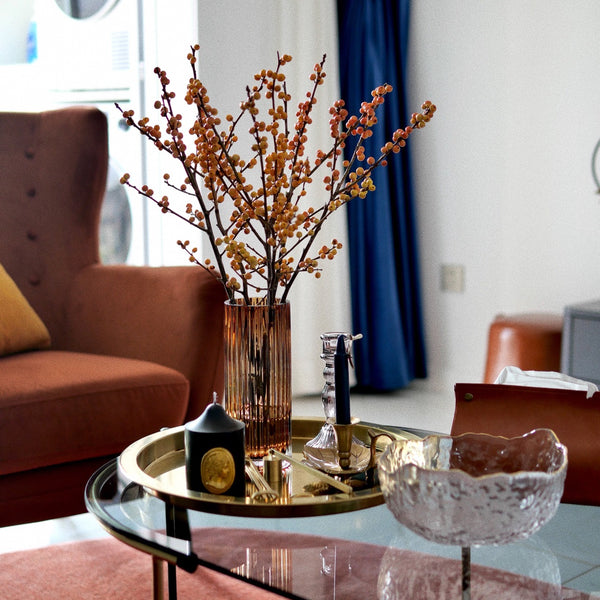 It is important to keep the water clean by changing and trimming the stems to enhance the beauty and freshness of the bouquet for glass vases.
Crystal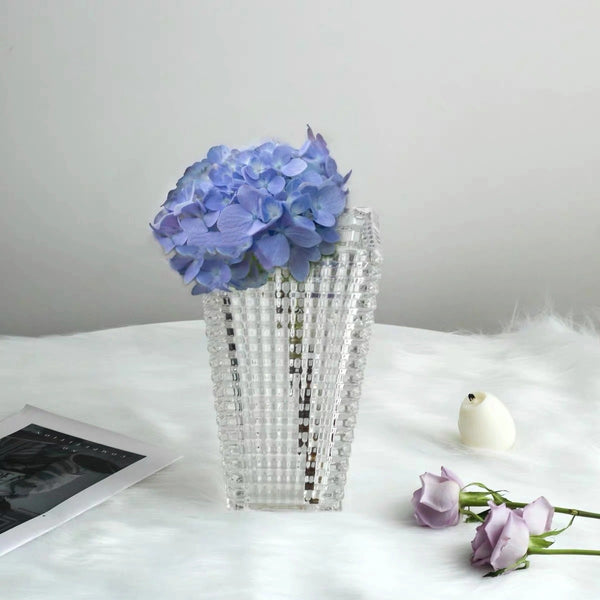 Crystal is famous for its romantic long-stemmed roses, and it is the perfect gift to express "I love you". Crystal vases are usually used to enhance the appearance of bouquets and show luxury and elegance.
Metal
Metal vases can be a contemporary and break-proof option. Due to their durability these are great for outside entertainment and come in many different finishes and textures.
Wood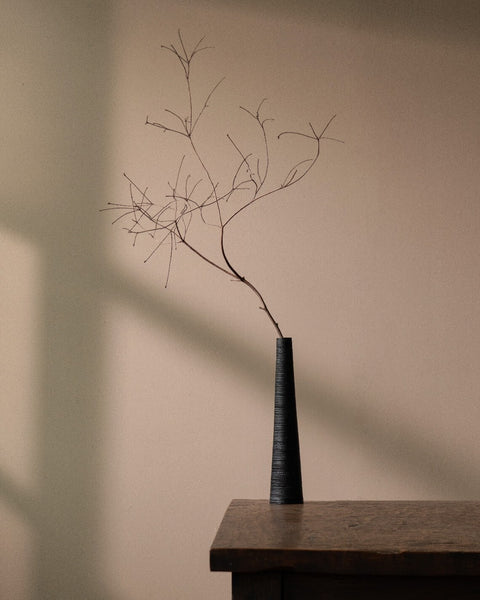 Solid wood is the texture closest to nature. By placing the wooden vase on the wall, it is easy to bring out the texture of the space and become the existence of a harmonious relationship between space and people.
Where to display the vases
When selecting a vase shape, the first question we may face is : where to display the vase?
Between the table, floor or hanging on a wall, you can show off your bouquet just about anywhere.
On the table, on the floor or on the wall, you can show off your vases almost anywhere.
Table vases are commonly smaller and hold a bouquet or a few flowers. Some vases looks really stunning just display on its own.
Floor vases are much larger and usually have a heavier bottom to support larger bouquets. They tend to be located as a focal point in a spacious room and should specifically complement the decor since they are such a large presence. Floor vases should have a wide opening to hold top-heavy flowers or plants so they won't fall over or be knocked over easily.
Wall vases can be a great way to add some depth and personality to a home, especially if there is a large blank wall for decoration. The wall vase works great with minimalist decor or to leverage wall space when floor space is limited. Ceramic is a common material used in making wall vases and is often paired with white or gray commonly seen with air plants in trendy coffee shops and boutiques.
Once you have ideas about the material and location for the vase, you can move forward with selecting your vase shape.
1.Rustic Vase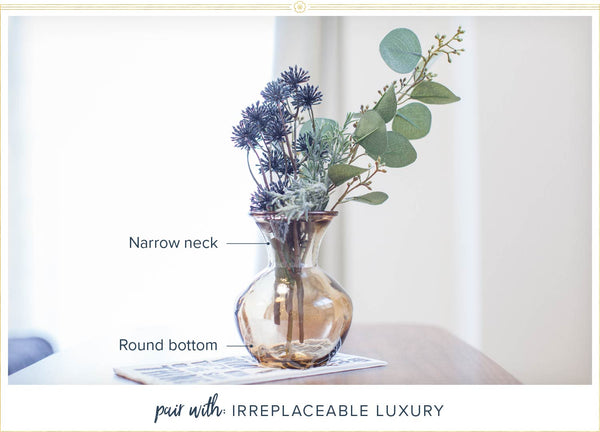 This rustic vase is famous for its round bottom and narrow opening. As the bottom of the vase shape is very wide, this style can support top-heavy flowers without being knocked over easily. Due to its informal and playful shape, this vase shape is perfect for placement in the kitchen or windowsill.
2.Cylinder Vase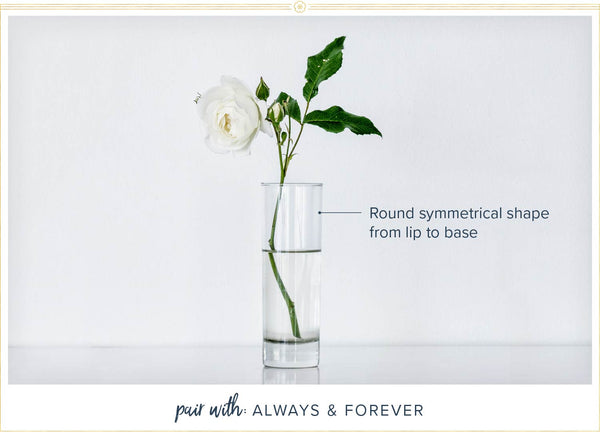 The cylindrical vase has a very simple shape. They match perfectly with taller stems such as red roses and orchids to create luxurious flower shapes. It is very beautiful with a single flower or bouquet! It is very suitable for placing on a entryway table or dining table.
3.Mason Jar Vase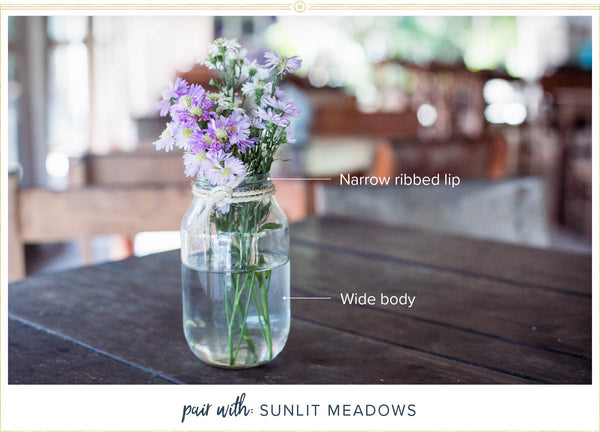 Mason jar vase is the most cost-effective vase shape and pair well with rustic or farmhouse decor. They can fit many different themes like vintage and modern depending on the way you style them. Try painting your mason jar, embellishing with ribbon or twine, or just letting its classic shape accompany your arrangement and let it be a centerpiece on your dining table.
4.Square/Cube Vase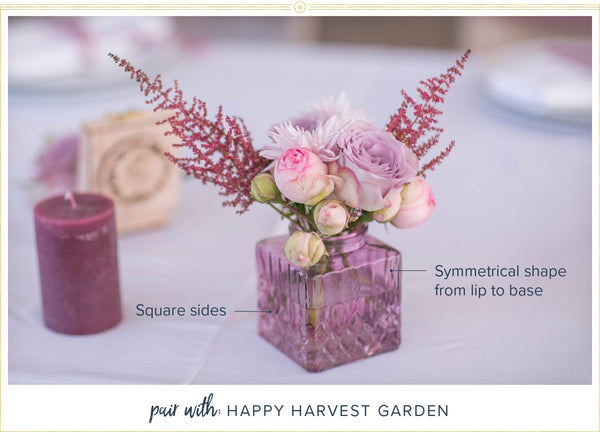 Square or cubic vases are great focal points for coffee tables, side tables or outdoor entertaining areas. It is very suitable for placing with scented candles.
5.Amphora Vase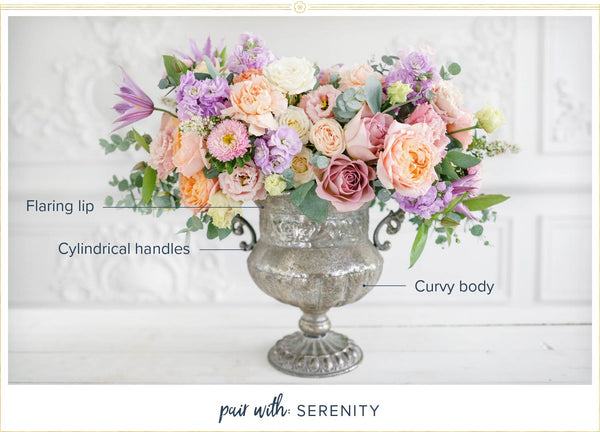 The amphora is an ancient form of vessel used as a storage pot and staple food in Greek pottery. It can be seen in many decorations that it has two handles and a neck that is narrower than the body.
6.Bud Vase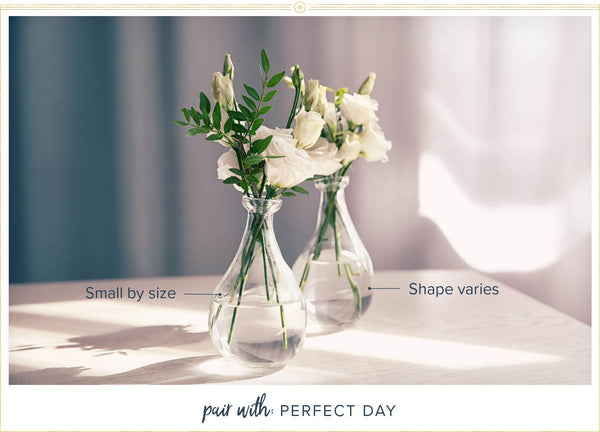 The bud vase is designed to highlight a flower or small bouquet and can be used as an exquisite decoration for a mantelpiece, enhancing an elegant plate setting or adding it when designing a bookshelf. It looks great in combination and can be a great substitute for the actual centerpiece. Another advantage of bud vase is that they will not hinder conversion due to their size. It does not take much effort to arrange these small bouquets, so they can be easily integrated into an intimate and romantic tabletop. Also due to their simplicity, they match perfectly with the minimalist style and fully show the flowers. 
7.Bowl Vase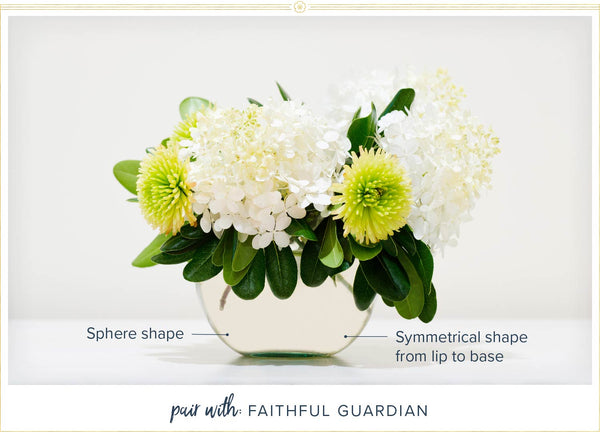 Bowl vases, also known as "fish bowl vases", are a unique way to highlight your beautiful bouquets and create a stunning artistic core. You will want to use this bowl as the focal point of a dining table or entertainment center.
8.Trumpet Vase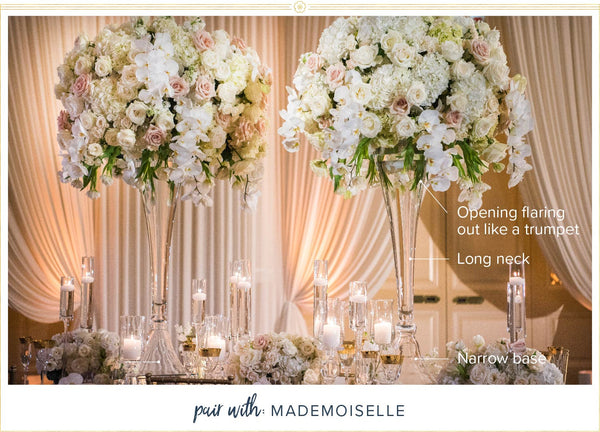 They are often made of glass or crystal, with a wider top and a narrow neck. Trumpet vases are very suitable for placing in the center of the dining table,  because they will not obstruct the sight of the guests or restrict conversation. The trumpet vase shape commonly seen at weddings adds another level of height to the centerpiece or floor-to-ceiling vase.
9.Pail Vase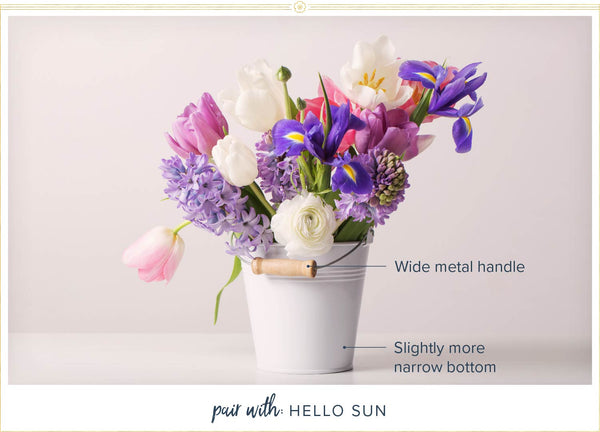 Pail vases are similar to mason jars or pot vases and are used to create the appearance of a farmhouse commonly found in home and wedding decorations. They are an interesting alternative type of vase shape, and use metal materials to create playful and more casual works. They go well with the very wild loose-structured bouquets.
10.Pedestal Vase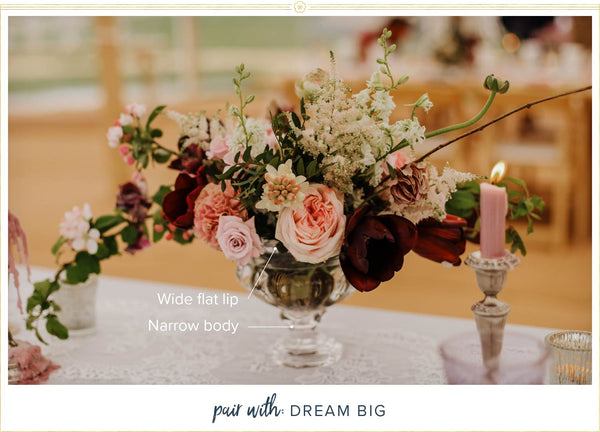 The pedestal vase can be integrated into the luxurious table setting commonly seen at weddings or large dinner parties. Elevated vases can stand on the floor, or they can be raised to the level of the table to break down the hall or row section. A gorgeous multi-color glass base vase can be decorated according to the season and become the focal point of your desktop.
11.Jug/Pitcher Vase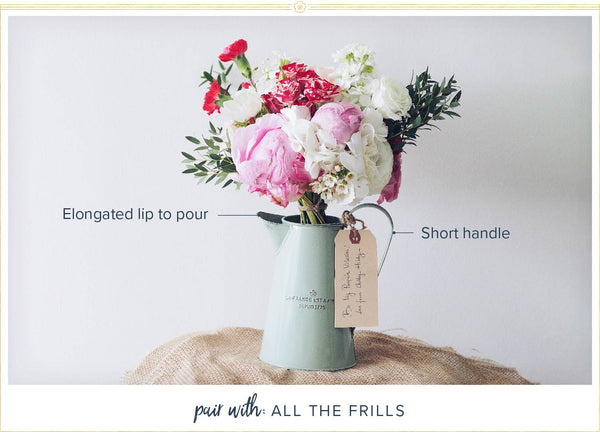 Jugs and vases are usually the eye-catching items on the kitchen table, but can also be placed in outdoor entertainment centers. Using the kettle as a vase can soften the appearance, while still being a luxurious work when paired with tall roses or tulips.
More tips about Flowers Sizes
Flower stems should be no more than one and a half of the height of the vase. For example, if you're buying long-stemmed roses with 20-inch stems (51 centimeters), you need a vase that's 10 to 13 inches (25 to 33 centimeters) high, max.
Image sources: https://www.proflowers.com/blog/vase-shapes
---