HOME DECOR · IMPROVEMENT
Created by a group of ceramic artist team and interior designers in Jingdezhen, it's a place known as the "Porcelain Capital" because it has been producing Chinese porcelains for about 1000 years. Now we have a team from different contries.
Our goal is to deliver great ceramic vases and accessories that benifits home decor. 
Originally Design Ceramic Vases
If you've ever wondered:
"Where can I find hand made ceramic vases benifits my home decor or where to find home decor ideas that small change big?" 
You're in the right place. Tiny Procelain is where ceramic artists and interior designers trun for ideas into home decor.
Here we originally design the ceramic vases.
How Are Our Ceramic Vases Been Made
Each ceramic vase are fully hand made by our artisits. 
We choose the right clay and wedging them. Ceramic vases need to go through dozens of processes.
It always takes more than 30 hours to see its final beauty.
Make the vase by hand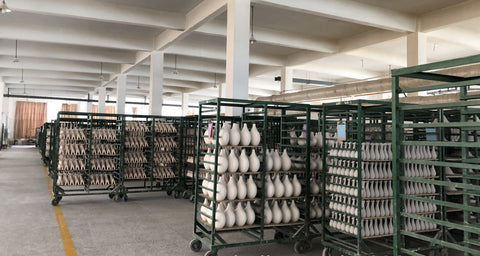 Ceramic vases waitting for Kiln
Who loves Tiny Porcelain?
Over 20,000+ happy customers with stunning home decor worldwide with Tiny Porcelain sofar.
Customer reivews
Also, we get many happy customerers tagged post on IG. Check our  Instagram here. @tinyporcelain_tt

Post on Instagram
Check our  happy customers reviews here. You would always find stuning home decor with Tiny Porcelain Ceramic Vases.
Have a question?
Contact us now using our contact page,
or email us at contact@tinyporcelainstore.com