Circle Shape Off White Ceramic Vase
Regular price
$54.89USD
/
Worldwide Free Shipping
---
Details & Dimensions

Ships In: 1-4 Business Days

Material: Ceramic
Color: Off White
Small:

 7.09'' W x 7.48'' H (18cm x 19cm)

Medium: 8.46'' W x 9.06'' H (21.5cm x 23cm)
Worldwide Free Shipping 
Tracking number for each package (we will email you the track info)
100% tracked info
Estimate Arrive Time
USA-Canada: 6 - 12days
Europe: 6-12 days
Australia - New Zealand :6 - 12 days
Middle East:6 - 12 days
Aisa:5 - 8 days
Worldwide: 7 - 14 days
Safe Packaging 
Your products will be safely packed. We promise you receive the 100% perfect item.
 30 Days Return  Policy- 100% Money Back
If you do not like the item and want to return the item, please contact us-contact@tinyporcelainstore.com. 
We provide 30 days return policy. Within 30 days of order received, just send the item back to us. We will fully refund.

Damaged/ Fault/ Incorrect Order 
If you have discovered our fault, please take pictures of the defected, or wrong case sent to you and attach them to the initial email with an explanation. Once we receive your email and verify the issue, we will get a replacement sent to you right away. 
Order Not Received
If your item has not arrived within 20 days after you placed your order, please contact contact@tinyporcelainstore.com and we will promptly take care of you.  
Refunds/Cancellations
Please contact us(contact@tinyporcelainstore.com) immediately, if you want to cancel the order. 
[NOTE]There are no cancellations if your order has been fulfilled.
If your order with us doesn't arrive at the correct shipping address provided to us and your payment is eligible, we'll reimburse the full cost of eligible purchases paid,  or we will gladly replace the item for you.
Order Modifications or Cancellation
After your order has been placed, you have 48 hours to contact contact@tinyporcelainstore.com and request order modifications, change of address, or a cancellation. After 48 hours, your order has already been placed in production and can no longer be modified.
HOME DECOR · IMPROVEMENT
Created by a group of ceramic artist team and interior designers in Jingdezhen, it's a place known as the "Porcelain Capital" because it has been producing Chinese porcelains for about 1000 years. Now we have a team from different contries.
Our goal is to deliver great ceramic vases and accessories that benifits home decor. 
Originally Design Ceramic Vases
If you've ever wondered:
"Where can I find hand made ceramic vases benifits my home decor or where to find home decor ideas that small change big?" 
You're in the right place. Tiny Procelain is where ceramic artists and interior designers trun for ideas into home decor.
Here we originally design the ceramic vases.
How Are Our Ceramic Vases Been Made
Each ceramic vase are fully hand made by our artisits. 
We choose the right clay and wedging them. Ceramic vases need to go through dozens of processes.
It always takes more than 30 hours to see its final beauty.
Make the vase by hand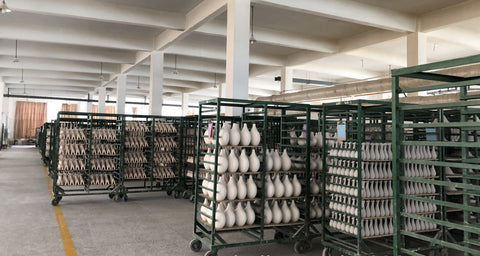 Ceramic vases waitting for Kiln
Who loves Tiny Porcelain?
Over 20,000+ happy customers with stunning home decor worldwide with Tiny Porcelain sofar.
Customer reivews
Also, we get many happy customerers tagged post on IG. Check our  Instagram here. @tinyporcelain_tt

Post on Instagram
Check our  happy customers reviews here. You would always find stuning home decor with Tiny Porcelain Ceramic Vases.
Have a question?
Contact us now using our contact page,
or email us at contact@tinyporcelainstore.com